Review: INIU Power Bank 10000mAh Ultra-Slim Dual 3A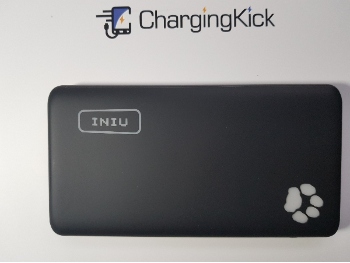 What if I tell you that it's possible to have a nicely designed and powerful power bank? Interested? The INIU power bank, with its unique design, four ports, and high-speed charging, is a power bank you don't just walk away from. Read on to find out what else this power bank offers.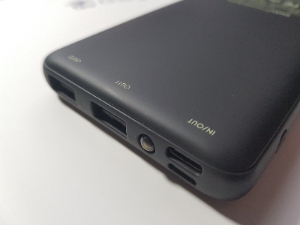 Pros & Cons:
Pros:
Cons:
Slow charging speed

Average recharging speed
Rating
Power & Performance (1 to 5 stars)
Design & Build (1 to 5 stars)
Technology (1 to 5 stars)
Overall Rating (average of above)
Key Product Specifications
Key Specs:
Capacity

10000 mAh / 37 Wh
Dimensions (LxWxH)

5.1 x 2.7 x 0.6 in / 13.3 x 7 x 1.5 cm
Output & Input Charging:
Average Charging Time of a Mobile Phone (average battery capacity 3000mAh)

1 hour and 50 minutes
Average Recharging Time (from 0% to 100%)

5 hours and 55 minutes
Ports
Micro USB Input: 5V/2A

USB-C Output/Input: 5V/2A

2 x USB-A Output: 5V/2.4A
Charging Technology
INIU's exclusive UPower+ technology: optimize charging to all your USB devices, even AirPods, smartwatch and heated vest.
Flight Status
Under 100WH

Safe to take on board.
Other Features
Ideal For?
Commuters

Students

Businesspeople

Travelers
What's Inside?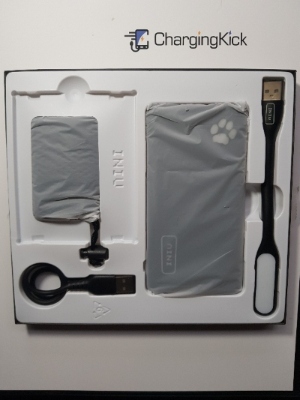 Power & Performance
Battery Capacity
Battery capacity in mAh and Watts
The INIU Power Bank 10000 mAh has a battery capacity of 10,000 mAh / 37 Wh. This amount of energy should be enough to charge most phones 2 or 3 times.
Capacity test: discharge the fully charged power bank
Have you ever wondered whether a power bank has its battery capacity? Does it really have 5,000 mAh or 10,000 mAh, as advertised? What is the real battery capacity?
To check the actual battery capacity we need:
The fully charged power bank

A USB tester that shows the current, voltage, mAh, and charging time.

The USB mini adjustable load receives energy from the power bank and releases it safely via the fan. This is the safe way to discharge a fully charged power bank and measure the real battery capacity.
I connect the dummy load (amperes are set to 2) to the USB tester, then plug it into the fully charged power bank. Once that's done, I wait until the power bank's battery goes flat. The screen on the USB tester will display the Watt-hours and the amount of mAh consumed. These data show the real battery capacity.
Using the aforementioned procedure, I tested the INIU Power Bank 10000 mAh. Here are the results:
Capacity Test
Results:
The real battery capacity is 6,423 mAh. This mAh measurement shows you the energy you will fully use to charge your mobile phone. It's not 10,000 mAh because the unit is converting energy from 3.7V (the power bank's battery voltage) to 5V (USB voltage). This loss occurs in every power bank.
When you know the advertised and real battery capacity, it's possible to measure the battery efficiency, which in this case is 87%. Manufacturers frequently don't share this information. Efficiency above 90% is considered very good. With 87% of battery efficiency, it's a good battery, better than an average one. The manufacturer claims that the power bank can be recharged over 1000 times.
Disclaimer: Every test can produce different results, but only small variations.
How many times can you charge the most popular mobile phones in 2020?
To put the battery capacity into perspective, I will use a formula for Real Battery Capacity and calculate how many times the INIU Power Bank 10000 mAh can charge the top 10 most popular mobile phones in 2020. Perhaps you own one of them, or at least you know your mobile phone's battery capacity.
From the previous test, we know the real battery capacity is 6,423 mAh.
Once we know the real battery capacity, we simply divide it by the enlisted mobile phones' battery capacity to find out how many times it can be charged.
| | |
| --- | --- |
| Mobile Phone Model | How Many Times Can It Be Charged? |
| | 4.61 |
| | 3.05 |
| | 2.88 |
| | 2.88 |
| | 3.24 |
| | 7.13 |
| | 2.88 |
| | 4.13 |
| | 3.09 |
| | 2.60 |
The INIU Power Bank 10000 mAh should charge all mobile phones with batteries smaller than 3,000 mAh at least twice (e.g., Google Pixel 4a). Mobile phones with batteries larger than 4,000 mAh should get at least 1.5 charges and potentially more since rarely we charge our phones after their battery dies.
Output Charging
Charging Time & Power Usage
Power banks are used mainly to charge devices. Therefore, this review would not be completed without testing output charging. For this, knowledge of the device's charging time is crucial. Frequently it is one of the most important factors in the purchase of a power bank.
For these tests, I used two mobile phones:
Huawei P10 with a battery of 3200 mAh (Huawei SuperCharge)

Samsung S8 with a battery of 3000mAh (Adaptive Fast Charging)
Both phones support fast-charging technology.
To record data (current, voltage, mAh, time) I used a USB tester.
Real-life examples of test-charged phones demonstrate what you can expect after purchasing a power bank.
The INIU Power Bank 10000 mAh has a high-quality battery, 4 ports and offers simultaneous charging up to three devices and output charging up to 5V/3A. All that said, the expectation bar is high. Does the tested power bank truly deliver energy faster than well-known power banks such as the Anker PowerCore? Let's find out.
Charging via USB-A (Huawei)
It took 2 hours and 7 minutes to charge the Huawei P10! That's way below expectations. With a maximum power output of 2.4A, the power bank charged at an average of 1.2A, half of its promised performance. The power bank delivered 2,477 mAh / 12.8 Wh in total.
Charging via USB-A (Samsung)
The Samsung S8 recharged in 1 hour and 36 minutes, a good and the expected time. The power bank was charging at an average of 1.4A, still less than promised. The mobile phone received a total of 1,952 mAh / 10 Wh.
Charging two phones simultaneously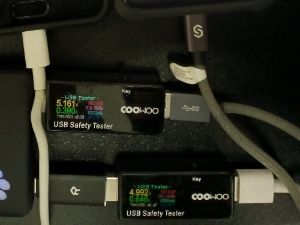 The power bank needed 1 hour and 46 minutes to charge both phones. This is an excellent time. The power bank was pumping an average of 1.4A to each phone, near to the promised 3A. This is a satisfactory result. The mobile phones received almost 4,400 mAh / 22 Wh in total.
A roundup of output charging
The test results are ambiguous. On one hand, the device charged two phones simultaneously in a short time. The Samsung S8 also recharged in an acceptable time. On the other hand, the Huawei P10 needed nearly 2 hours and 10 minutes to reach full charge. This is way too slow. Perhaps the INIU power bank is inconsistent. Some phones might charge quickly and others faster.
Input Charging
The INIU Power Bank has two ports for input charging: Micro USB and USB-C, both rated at 5V/2A. The power bank should fully recharge within 6 hours.
I charged the power bank twice. The first test, via a standard charger rated at 5V/2A charging speed; a charger most of us have. For the second charge, I used the charger rated 65W, the fastest type of charger, able to charge compatible laptops.
Recharging via Standard Charger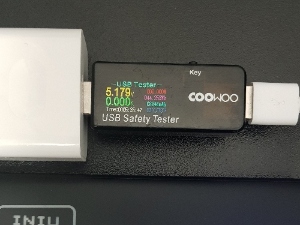 The Standard Charger needed 5 hours and 35 minutes to charge the power bank to 100%. This was the expected time. The flow of energy was constant at 5V/2A. The power bank received 8,846 mAh / 44.2 Wh in total.
Recharging via Fast Charger
The RAVPower Fast Charger, one of the fastest chargers available, needed 6 hours and 12 minutes to charge the INIU Power Bank. Surprisingly, this was longer than the Huawei Charger took. The charger delivered in total 8,949 mAh / 46.2 Wh.
A roundup of input charging
The input charging of the INIU Power Bank 10000 mAh meets expectations but doesn't exceed them. If you use a charger with 5V/2A – a standard charger – you can plug in the power bank, leave it overnight, and wake up with a fully charged power bank.
Score
Design & Build
Dimension & Weight
Weight in ounces and grams
Measurement in inches and centimeters
INIU Power bank is a slim, lightweight device. It weighs only 7 ounces and has the dimensions of a 5"-6"- inch mobile phone. It should easily stack on top of your phone and slide into your pocket without feeling excessively heavy.
Design & Material
When I held the INIU Power Bank for the first time, I knew this power bank was different from any other.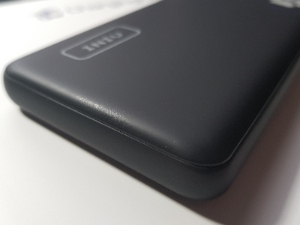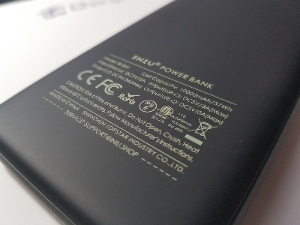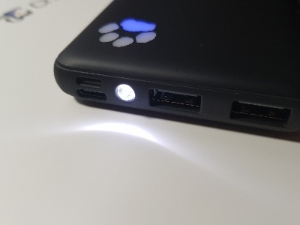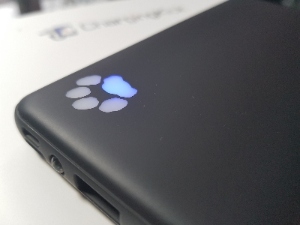 The first thing that strikes you is the cute paw print. This not only presents phenomenally but also has a practical function: it's the battery indicator. The paw's toes – five blue LED lights – indicate the current battery level. I bet that this feature alone might appeal to a lot of potential customers.
The INIU 10000 mAh power bank is made of high-quality plastic. The manufacturer brags about its 12-layer SmartProtect safety system. Apparently, it's the strongest and the most durable anti-impact casing out there. It's certainly strong and well-built, but it's not a rugged power bank and probably wouldn't survive multiple drops on concrete or rock. It should be fine for daily use, though.
It's incredibly satisfying to touch, slightly soft and porous. It's resistant to scratches and scuffs. It sits well in your hand.
On the top edge, right above the paw, are four ports and a built-in LED torch. The light is turned on by quickly pressing the corresponding button twice. The light is poor, but enough for finding lost items in a dark room. The full battery should easily deliver at least 12 hours of light.
Furthermore, the manufacturer gives us a flexible-shafted plug-in reading light, a great addition for night readers. The charging cable (Micro USB) has a dust cap to protect it from getting clogged up. A nylon protective pouch is a nice touch. All these small things are great additions and show that the manufacturer has paid attention to detail.
The power bank is only available in black.
Score
Technology
Ports
The INIU Power Bank 10000 is equipped with four ports. For this battery capacity, this is a significant number. The maximum output of all ports is 3A and the maximum input is 2A. Two USB-A ports and USB-C can be used to charge mobile phones together, at the same time. I can't recall many power banks that can charge three devices simultaneously.
Micro USB Input: 5V/2A
USB-C Output/Input: 5V/2A
2 x USB-A Output: 5V/2.4A
Tech
The only technology this power bank has is INIU UPower+ technology, which enables optimized charging of devices. In theory, it should detect the optimal charging speed. However, the mobile phones I tested didn't charge at their fastest speeds.
Score
Conclusion
Overall Opinion
The INIU Power Bank 10000 mAh is certainly a power bank you'll want to lay your eyes on. Beautifully designed (primarily due to the paw), high-quality material, small and slim, and four ports in such a small device. It doesn't charge mobile phones as fast as other power banks, but it's sufficient.
Final Score